Federation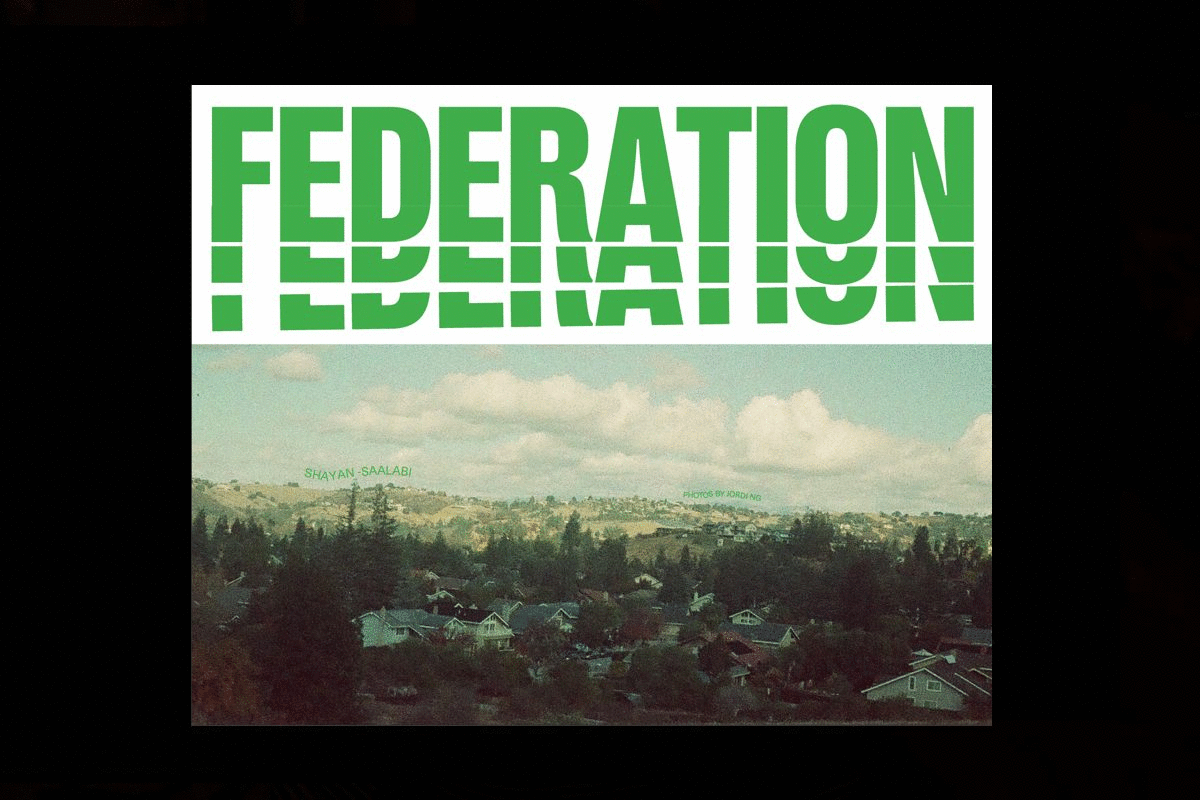 At the edges of Almaden, the rolling-green San Jose suburb grays into a spaghetti junction of highways – 17, 85, 101 – that stretch to San Francisco, Oakland, and other loud places. In the shadows of that concrete sits a neat complex of vanilla-colored condos and an adjacent expanse of parking lot, all hidden at the end of a tree-lined driveway. The condo complex, maybe in an attempt at self-sufficiency, offers odd essentials – a convenience store, a hair salon, a light-rail stop, all bearing the name Ohlone, after the Indigenous people who were there before Junípero Serra and Steve Jobs.

There is also a restaurant. It is, like everything else in this place, unassuming in its appearance, with clinical vinyl floors and cheap paneled four-tops. But unlike everything else in this place, the restaurant is not named after the Ohlone but after a river that runs across Somalia and empties into the Indian Ocean – Jubba. However innocuous among its unremarkable neighbors, Jubba is a culinary anomaly in San Jose. But the place is more than its goat platters – it is a cultural touchstone, taking up critical space in a city that is disappearing into itself.

I do not remember the first time that I ate at Jubba, the same way that I do not remember the first time that I chased my childhood friends around our school's playground – the memory isn't the message. What I do remember is how immediately Jubba became entrenched in our understanding of a hometown we believed to be so lacking. Later, when we would flock back from colleges in Chicago or Los Angeles or elsewhere for Thanksgiving, we would crowd around a table in Jubba the night before, styrofoam cups of black tea clouded with cinnamon and cardamom and ginger in our hands, and tell stories that took place in Chicago or Los Angeles or elsewhere.

For so long, Jubba was simply a suburban exception to the rule of Chipotle and other chrome-covered chains. Silicon Valley, despite its almost incomparable diversity, has long bent to whatever is quickest – I'm thinking of the Bank of America in Almaden that doubles as a Starbucks drive-thru – rather than that which is most authentic. However fortunate I was to access Jubba and enjoy it so wholeheartedly, I hardly ever considered Jubba's existence in the context of the Valley's penchant for cultural normativity – for muddling our multiculturalism and limiting it to an annual "Heritage Night" in an over-lit school cafeteria.

It was not until quite recently, as I've only become more enamored with what I'll eat next, that I could point to Jubba as where I learned that revelatory culinary experiences are almost always revelatory cultural experiences. Though I had always understood Jubba to be Somali, I was entirely unaware of Somali cuisine's push-and-pull with Italian influence. (Italy occupied much of Somalia, as well as tracts of Eritrea and Ethiopia, from the late 1880s until the late 1940s.) Garlic cuts through Suqaar, a Somali mainstay of sautéed diced beef and bell peppers. Spaghetti, or baasto, is a common side-dish, though Somali chefs season their spaghetti sauces with cumin, cinnamon, and cloves. A platter of Suqaar served with both spaghetti and rice is called a "Federation" – an incongruous union, communicated immediately across the plate.

I'm not suggesting that brief histories be written on table napkins. I'm suggesting that regardless of how apparent these histories might be, they are easily ignored. And in Silicon Valley, where a corporate atmosphere abounds, this ignorance is often paraded as acceptance. Somali or Mexican or Vietnamese restaurants can exist peacefully in strip malls, certain Black and Brown faces still trigger NextDoor posts – "we passed 3 Hispanic guys standing beside Their BLACKED OUT CAR....NOW WHAT??" – when seen anywhere deemed out-of-place. Though eating at Jubba, or at any immigrant-owned establishment, would hardly absolve these trolls of their racism, they could do with a trip beyond the lawn.

Much of my time spent in Almaden is marked by a certain surreality – a uniform tranquility that slowed my steps, as if walking through quicksand. (I have seen many an old friend fly away for college only to now filter back to our Sleepy Hollow.) Now, as I write from Brooklyn, I still feel somewhat indebted to Jubba for cutting through my childhood of chicken tenders and chocolate cake, triggering some Bourdain-esque awakening. After all, it was Bourdain who wrote, "Perhaps wisdom, at least for me, means realizing how small I am, and unwise, and how far I have yet to go."

I am still stirred by a sense of smallness that I first found in Jubba. Not in some far-away place, entirely unknown, but right behind the mall. That is where the world revealed itself to me – what else could be so sweet?

*** This piece can be found in-print in Şap Şup Issue 001.

Q&A: Charlotte Ager

In celebration of its 90th anniversary, British publishing house Faber & Faber has launched a series of beautifully designed, standalone short fiction from the likes of Kazuo Ishiguro and Samuel Beckett. Included in the collection is a previously unpublished story by American author Sylvia Plath, "Mary Ventura and the Ninth Kingdom," written while Plath was still a student at Smith College. I had the chance to talk to Charlotte Ager--the London-based artist who illustrated its cover--about her involvement with the project and her movement from rough sketches to a final draft fitting of Plath's work.

You recently illustrated the cover of a Sylvia Plath story for Faber & Faber --how did you first get involved with that project?

Charlotte: I was contacted through a random email explaining the project and asking if I'd like to take part, which of course I did! I think the designer had found my work online and had thought it would work well within Faber's series. I really like how varied the list of illustrators and designers is--it's given a very unique voice to each book while still being unified by a single colour palette.

Had you ever illustrated a book cover before? How did illustrating for Faber differ from some of your other projects?

C: Yes, but the process had been very different. I had recently worked with Penguin Random House to create a cover for "

A Place for Us"

by Fatima Farheen Mirza. They had quite a fixed idea of how they wanted it to look and it was more of my job to work toward the rendering of their idea.

Did Faber have a clear idea as to the sort of cover that they wanted or were you given full creative control? Did you have to work within any design constraints?
C: With this project, I was given a few pointers but ultimately had free reign on what I wanted to design! It was very open content-wise and it was really great to have that amount of freedom. I sent a lot of rough ideas and rough drafts that the designer then made decisions on. The only design restraints I had really were on the colour palette, which had to be the same for all of the books within the series. But I actually really enjoyed that because I'm so used to working in however many colours I want--it gave me more time to focus on composition.

Had you read Sylvia Plath before? Did you read the story to better familiarize yourself with the world of the text before illustrating? Did you feel that you had to work closely with Plath's writing to create a compelling cover?

C: Yes! I've been a fan of hers for a long time, so I felt very lucky to be given the privilege of designing a cover for a previously unpublished story. Faber sent me the story beforehand, which was so important to read before designing the cover. It's the way I'd always prefer to work! The strange tone of the story really excited me and it was that feeling that I kept going back to when designing the cover, more so than the story's content or descriptions, and I wouldn't have got that sense without reading it.

How did you ultimately start the drafting process? How much direction did you receive from Faber as you moved from draft to draft?
C: I always start a project by just doing very rough pencil sketches to get loads of ideas out and then refining the same ones over and over. With this project, I also spent a lot of time messing around on Photoshop, changing around colours and moving elements around. The colour palette wasn't what I would naturally be drawn to, but I really liked the process of working out how they could fit together in different volumes to create a particular sensation. The designer was great at giving me specific feedback to help develop the designs, but I also felt like I could make my own changes throughout.

How did it feel to settle upon a final draft for publishing? What was it like to hold a book that you had illustrated in your own hands?
C: I wish I could answer both questions by saying it's a joy, but in reality I often struggle with the final result, as I think a lot of illustrators and designers do. At the start, there's so much possibility of what you could do and I love the process of trying out lots of ideas. So when it's whittled down to one design it sometimes feels a bit strange and almost disappointing. There are instantly things I want to change, but I think that's good--it keeps you hungry to keep working and getting better. At the same time, it was very cool to see my work amongst the other designs when I walk into book shops. I think that they all work so wonderfully together and I feel very grateful when people say they've bought a copy.

*** This piece can be found online for The Paper Mixtape here.
Close (But Not Quite)

You pace around your empty apartment three or four more times before you finally get back to writing. It's still early so you don't bother to check the time. You walk out onto your cramped balcony and sit in the white rocking chair, your black journal on the foldable table to your left. You only write in journals because dead poets didn't use word processors. You lean forward and look at the oncoming cars below and wonder if they'll ever stop. LA is beautiful but it's always trying. You begin to sweat so you take off your white shirt. Even if nothing comes of this, at least your shoulders will be tanned. You prop yourself up to stare at all of the empty pages in front of you and think of what could happen. You flip through what you've already written but your handwriting is indecipherable--a terrible left handed mix of cursive and all caps. Your biographers will probably hate you for it. You forget your pen inside. It's a uni-ball ONYX micro point and it's fucking great. You go back inside to get the pen but you get your phone too. You stop to sit on the couch for a little while and look at photos of people you're not close to. It's not so early anymore. You head back out to start writing but you make a mess instead, filling pages with awful caricatures and scratched out first lines. You wish it were easier to be Virginia Woolf or Frank Ocean. You stop again. You grab the broom from the kitchen and sweep the balcony. If your mother saw how dirty your feet were, she'd kill you. The cars are still coming. You replace the broom with your acoustic guitar. You play folk songs from the 60s and hum the words. It comes easy and you don't think. You even close your eyes. You put your guitar down to try writing again. You sit in silence and scribble nothing wildly. You begin to brood a little but mainly you check your email inboxes on your phone. Your English teacher said to write while uncomfortable. Maybe you're too comfortable. But you're never comfortable. You turn to another page as the cars continue to hum below.

*** This piece can be found in print in The Paper Mixtape Issue 006.

Q&A: Adam Jason Cohen


Flip past a basketball game on TV and you'll catch flexed chests, flared nostrils, and two numbers on a scoreboard. One good, one bad. There's a simplicity to this game that I find comforting, painted lines marking where I can and can't go. But there's more to it. There always is. This game is one of escaping circumstance--nail a metal rim into a telephone pole and suddenly you're somewhere else. What basketball can and cannot do is central to Chicago-based photographer Adam Jason Cohen. Featured by the likes of Nike and Adidas, it's Adam's personal work--namely, the photo-zine "Fundamentals"--that's most affecting, capturing social disparities in America that the more abstract often misses. I recently had the chance to talk with Adam about basketball and how it operates in his photography.

Where does your interest in both basketball and photography stem from? Did you ever see them as clashing or always as two things that could build on each other?
Adam: I usually keep a lot of my personal interests separate from my work, so there's always an ongoing process on how I can actually merge those two things. And after being in Chicago for a little bit over a decade, I've realized how ingrained the culture of basketball and the language of basketball is here. So much of the economy is tied closely to the history of the Chicago Bulls--just geographically, areas around the United Center have been thriving, directly or indirectly, because of their ties to Michael Jordan and the 90s Bulls. It's been interesting to talk about how certain resources come into the city and how they're allocated to these neighborhoods and almost filtered down elsewhere.

Is there something about basketball specifically that lends itself to photography more than other sports?
A: I mean, with other sports, you can't really play by yourself. You can't play baseball by yourself. You can't play football by yourself. The only thing that's really come close is skateboarding. To me, skateboarding and basketball are the only real athletic activities that don't really require a team. You can practice those things by yourself and that practice mirrors my photography. I don't go out in the world with other photographers--I work when I'm just living my life.

When people think of basketball, their mind leaps to the pros and spoiled stars, but a lot of your work captures the game in not-so-glamorous settings, prison yards and overgrown fields. What pushes you to capture these less visible aspects of the game?
A: Truthfully, a lot of that doesn't have much to do with basketball. I'm trying to get a point across. I think it's pretty evident what that point is, and basketball is an easy way to get that across. So much pop culture, so much fashion, is tied to basketball, more so than any other sport now. With how popular the game has become, especially over the last ten years, all of that lends itself to getting my point across.

Along those lines, do you think of your work as being ' bigger than basketball,' as a potential avenue for people to engage with perspectives they would otherwise ignore?
A: Oh, for sure, basketball is an easier way to get other people to relate to these topics. Because a lot of my audience care about, you know, fine art, and that type of sensibilities isn't always lending itself to others getting their point across. So, I think using something that's so universal--literally a children's game--can break some of these ideas down and understanding what's going on in the world. I don't think I could go around taking photos of anything abstract to get my point across. It's not who I am. It's not a part of the culture that I'm in.

You have been a frequent collaborator with the basketball zine "Franchise," was that your first experience with other creatives dedicated to covering sports? With the response they've received, do you anticipate more and more art publications dedicated to sports popping up and catching on?
A: Thinking about it, I really think "Victory Journal" was the publication to usher in a way of looking at sports in a more nuanced way. As something more than what happens on a scoreboard. I don't really look at the bigger publications like ESPN, but I think that there has been a ball rolling and getting bigger and bigger with more nuanced and critical work.

I also wanted to ask you about working with "Franchise" to cover Nike Chicago's transforming an old church into a 'basketball heaven,' what was it like seeing a company like Nike step into the Chicago community and creating something tangible for these kids to grow with?
A: I mean, working with "Franchise" was cool, but really what matters is that a bunch of kids, who on a day-to-day basis don't get to see a lot of cool shit, got to see a lot of cool shit. Outside of basketball, these kids got to learn about becoming things other than professional athletes. They can be photographers, producers, so many creative things that are just cooler than being a basketball player. Being out there and having these kids asking me as many questions as [Chicago Bulls' player] Lauri Markkanen was pretty cool because some of these kids could have my job. Not everyone is seven-foot-one and from Finland.

One last thing--do you have any advice for young creatives trying to get from A to B? What were some of the first steps you took?
A: Everything I do is 100% tied back into my work or into being able to stay creative. I think that it's really important to make sure that your life is really adjacent to your personal work. You should want to live, breathe, and do this at all times. Don't take things personally when things are going slow. We live in this world of immediacy, but these things take a long time. They just take a long time.

*** This piece can be found online for The Paper Mixtape here.

Under the Beach, Concrete


Balanced, barefoot. Heaven is just a jump away. Somewhere. Anywhere there's concrete. In Rucker. In Foster. In Venice. Always in Venice. On a stretch of cracked concrete packed between Charly Temmel Ice Cream and the Pacific Ocean sit four basketball courts. Almost every morning people show so long as the sun is out. And the sun is always out in Venice. When the street-ballers in Park Slope wonder where the sun goes in November and December, it's shining on some moppy-headed kid in Southern California. At first it's only a few. Usually the old-heads who have nowhere to be but here. They lace-up their sneakers slow, they stretch slow. I ain't tearing shit today, they holler.

It's not long before the kids come too. Their basketball shoes tied to their handlebars, they leap off their bicycles before they crash into the chain-link. There's a recklessness to them already. There's a recklessness to any eighteen-year-old on concrete--a little fuck-you on their faces when they pull up for a shot from thirty feet. They kick off their flip-flops for Kobes and KDs. There's a lot of self-worth tied to these sneakers. Who's got the new shit, who's got the old shit? Their shoulders begin to bob as rap blares from a bluetooth speaker tucked in a backpack. There's a rhythm to the playground and it's starting to pick up.

Somebody rolls a ball out onto the first court and everyone clings to it. A thirty-something in a black tank-top picks it up, bounces it twice, and throws it up toward the basket. The ball clangs off the front of the rim--it's somebody else's shot now. There's eight or nine players milling about the basket, waiting for a tenth. Without a tenth, there's no five-on-five, only some trash talk and endless rounds of H-O-R-S-E. When the tenth comes, one of the kids claps his hands. Let's go, yo.

Without saying much, the ten sort themselves--better split up the giants--to make two teams. Here, the rules are quite simple. Each bucket is worth a point, the first team to twenty-one wins. Let's go. The bluetooth bumps. Let's go, yo. For the first few minutes, there's only unfamiliarity--off-balanced shots that sail wide and bounce passes to ghosts. No one has a sense of where they are, or who they're with.

Then, one of the kids gathers the ball and slashes across the court to the basket, rolling the ball off his fingers and softly into the net. Down the other way, an old-head slings the ball overhead to an open man under the basket. Point. All at once, it comes together. Shots splash in from twenty, twenty-five feet. The ball skips across the concrete--like a smooth stone on a still lake. Everyone here knows the language. Of I-got-yours and you-got-mine huffed at full speed. Of random sacrifice so sweet, so sweet.

The score climbs. Three to four. Eleven to thirteen. Then, it's nineteen to twenty--game point--with one of the kids cradling the ball at the top of the court, looking to kill. He leans forward and crosses the ball from his left hand to his right. His defender shifts back to meet him. But the kid freezes, pulls the ball back and bounds into the air. His defender leaps but he's already too late. The ball is suspended above everyone--hanging, forever overhead--before it rips through the net. That's it. That's twenty-one.

Dirty hands rest on sore knees and t-shirts wipe away sweat. Breath is barely caught before talk of another game starts. Let's run it back. Feels good? One more. A couple more. Let's run it back.

A seagull circles the court--under the beach, concrete.

*** This piece can be found in-print in The Paper Mixtape Issue 009.